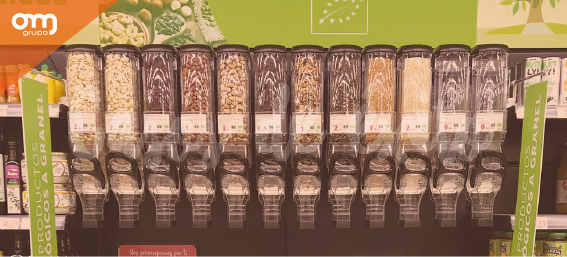 Alcampo installs Shop and Roll Bins for bulk sales
8 November 2022
Alcampo (Auchan Retail Spain) installs Shop and Roll's Bins solution for bulk sales.
Alcampo (Auchan Retail España) has incorporated the bins solution for bulk sales of organic products. This solution can already be seen in four of its large shops: Montecarmelo Supermarket (Madrid) and Diagonal hypermarkets (Barcelona), Alcorcón (Madrid) and Logroño (La Rioja).
The innovative visual merchandising system, Bins, is a specific sustainable solution for bulk sales. Dispensers are ecological, economical and ergonomic and, combined with the use of paper bags, help to fight against the excessive use of plastics.
The bulk system optimises in-store space, increases product visibility and enhances shoppers' shopping experience by allowing them to pick up exactly the amount of product they want.
In this sense, the Bins installed in Alcampo reduce the amount of packaging, minimise food waste, ensure automatic product rotation, respect the FIFO principle and contribute to the development of a more sustainable retail.
In the Bins range in Alcampo, customers will be able to find more than 2,000 ecological references of coffee, infusions, pulses, nuts and seeds among others.
Do you follow Shop and Roll on LinkedIn?  Follow us so as not to miss out on all the latest news, trends and curiosities in the retail sector.