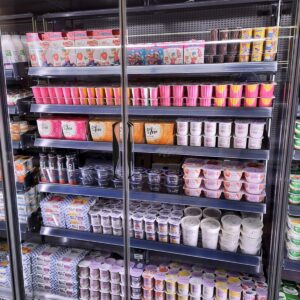 Bonpreu installs rotating shop-front solution
20 May 2022
Bonpreu installs Visual Merchandising's automatic rotating shop-front solution
Bonpreu has opted for Shop and Roll's system to improve dairy category in its points of sale.
A rotating shelving solution that automatically fronts products on display. It facilitates product management as well as improves replenishment times, creating a more attractive shelf and respecting the FIFO principle.
Bonpreu has not only achieved its goal of increasing throughput of dairies category, it has also reduced its product shrinkage by controlling better the FIFO principle.
This automatic front-loading rotating solution has inclining shelves that are positioned according to the product on display. Thanks to its inclination, products are automatically faced. Besides, as it is rotating, it reduces replenishment times and facilitates the task as it has a much more ergonomic movement.
Do you follow Shop and Roll on LinkedIn?  Follow us so as not miss out on latest news, trends and curiosities of the retail sector.