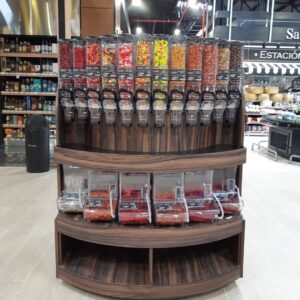 Chedraui: communication and visual merchandising
9 November 2022
Chedraui: communication and visual merchandising to improve shopping experience
Chedraui entrusts Shop and Roll with the renovation of its visual communication at the point of sale and the implementation of visual merchandising systems to improve the shopping experience. Willing to improve communication with customers at the point of sale, minimise product shrinkage and offer more information about its offer, the Mexican retailer has entrusted Shop and Roll with the implementation of solutions improving the visibility and order of its shops.
Thus, since the project began in 2018, Chedraui and Shop and Roll have worked hand in hand to develop a global visual communication and visual merchandising project in its Selecto flagship shops.
Solutions installed:
On the one hand, the battery of visual communication supports and developed solutions include: signage, price and promotional communication, pallet covers, stoppers, displays and POS and mostly aerial communication. As a result, Chedraui selecto is now an attractive, visual and tidy space for the shopping experience, as it can be seen in the photographs.
On the other hand, regarding visual merchandising, the Shop and Roll-Chedraui project consists of different self-fronting and product/space optimisation systems such as:
Fresh Fit for fruit and vegetable display. A sustainable option solution for fruit and vegetables that guarantees maximum freshness and minimum shrinkage, offering a unique, abundant visual image that generates an active focus of traffic to the section.
Self-fronting with rollers for cold beverages with Gravity Roller solution: roller plates maximise space and productivity.
Bins dispensers for bulk vending. Sustainable solution option for bulk vending. 2 dispenser modes: gravity or paddle/pincer to adapt to all types of product with an ecological, ergonomic and economical system. Bins optimise shop space and improve consumer satisfaction by comparing the desired quantity.

Kwick Load for 4th range and fresh sliced products. The most versatile pusher which, placed on a power bar, generates a homogeneous, attractive and tidy image of the shelf at all times; it helps to better control shrinkage and guarantees the FIFO principle.
Do you follow Shop and Roll on LinkedIn?  Follow us so as not to miss out on all the latest news, trends and curiosities in the retail sector.