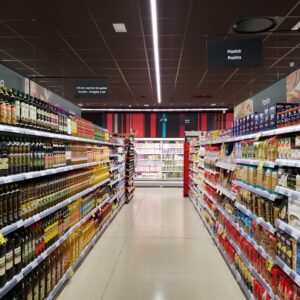 Eroski Zizur opens a new store with Shop&Roll Visual Communication
18 September 2020
Eroski continues its expansion in Navarra with a new store in Zizur Mayor. For this opening, Shop&Roll is responsible for the visual communication to improve in-store navigation
Among the hallmarks of the new Eroski center is the commitment to personalized customer service with the incorporation of counters in the bakery, butcher's, delicatessen and fishmonger's sections. Accompanied by a careful staging and an investment in in-store navigation.
Shop&Roll has had the privilege of participating in this project leading the visual communication of the establishment. More than 1,300 square meters of surface where Visual Communication solutions have been installed according to Eroski's new commercial model:
-Store ambience and communication with perimeter signage.
-Store surfing with digital printing supports, vinyls, etc.
-Price communication elements, promotions and protection indications such as covers and frames.
-Wooden headers and banners, etc.
SUSTAINABLE STORE
According to FoodRetail magazine, it is also a more environmentally sustainable establishment, as it reduces its energy consumption by 60% compared to a conventional supermarket and incorporates equipment and facilities that meet demanding energy efficiency and environmental sustainability requirements.
Shop&Roll participates in this initiative by implementing the BINS system for bulk consumption. A sustainable visual merchandising solution with gravity dispensers to encourage responsible consumption of bulk products. These ecological, economical and ergonomic dispensers help increase sales, optimize store space and improve consumer satisfaction by comparing the desired quantity. In addition, according to the latest AECOC data, bulk consumption seems to be here to stay, as 46.2% of consumers say they buy more in bulk than before, considering it more sustainable, healthier and more economical.