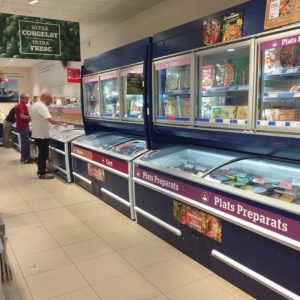 La Sirena: new visual communication
8 November 2022
La Sirena: new visual communication to improve point-of-sale navigation
La Sirena renews its in-store visual communication to improve shopping experience.
Good in-store visual communication not only improves the attractiveness of a point of sale. Having visual navigation systems, price and product information or theatrical displays in the shop directly enhances customers' shopping experience. La Sirena renews its in-store visual communication with Shop and Roll.
This has a direct impact on increasing sales. And, together with innovative visual merchandising systems, the point of sale can become a clear spotlight for the customer.
In this sense, La Sirena is aware of this reality and has decided to renew the visual communication of its shops after the success of its trial run within 2 years with Shop and Roll.
To do so, the visual communication for this renovation includes, among others:
Colour-coded in-store navigation systems differentiating the different product families.
Communication of promotions and prices at the same height as the product itself to improve identification of offers and information on each item displayed at a glance.
Undoubtedly, La Sirena is committed to the customer, offering them the best shopping experience by optimising its sales areas.
Do you follow Shop and Roll on LinkedIn?  Follow us so as not to miss out on all the latest news, trends and curiosities in the retail sector.