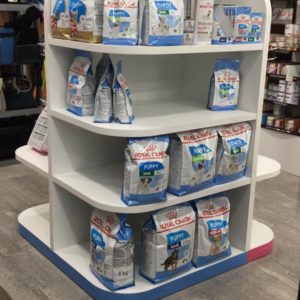 Royal Canin maximizes the visibility of its Puppy and Kitten categories with a new display stand
7 November 2022
Royal Canin maximizes the visibility of its Puppy and Kitten categories with a new display stand
Giving visibility to the product on display is key to improving in-store traffic and maximizing the customer's shopping experience when visiting the point of sale.
Visual merchandising solutions such as displays, price communication and in-store theatrical elements can make the difference to improve sales and generate brand image.
Royal Canin is aware of this and has relied on Shop&Roll to develop a new wooden display with accessories such as hooks and leashes to maximize the potential of the product displayed in the Puppy and Kitten category and generate greater brand awareness.