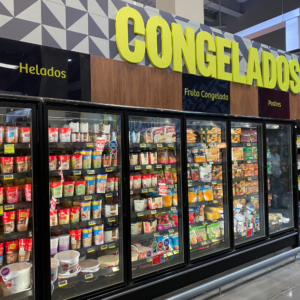 Soriana improves in-store navigation through visual communication
9 November 2022
Shop and Roll revamps Soriana's image to improve in-store navigation and customer shopping experience
Soriana relies on Shop and Roll to improve in-store navigation with visual communication. The update was carried out through image of perimetrals and aerial communication comprising  aisle directories and the different departments.
Optimal visual communication at the point of sale not only improves customer navigation, but also has a direct impact on improving shopping experience. See the visual communication catalogue and our successful stories for more information.
This visual communication improvement has been carried out by developing vinyl printing and cutting, corporeal letters, light boxes or metal structures, among others. Shop and Roll specialises in designing, producing, distributing and implementing visual communication projects at the point of sale.
This expertise has allowed Soriana to develop a joint project between the distributor and the supplier to generate a customised point-of-sale ambience project.
Do you follow Shop and Roll on LinkedIn?  Follow us so as not to miss out on all the latest news, trends and curiosities in the retail sector.