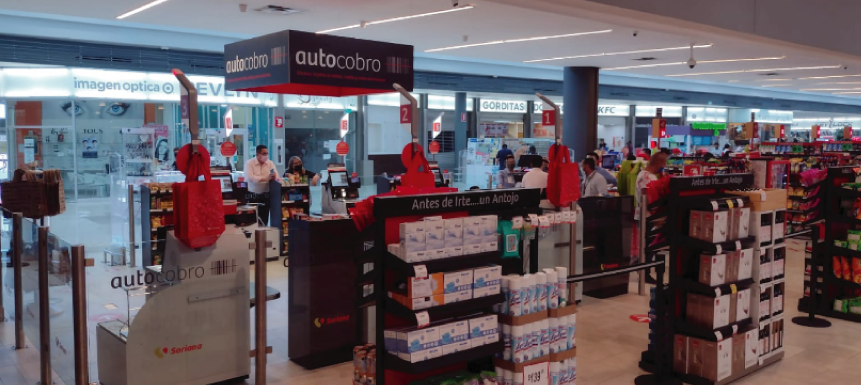 Soriana revolutionises communication in the check out area with Shop and Roll
8 November 2022
Soriana revolutionises communication in the check out area with Shop and Roll Retail
Soriana reinvents its visual communication in the checkout area with Shop and Roll. By doing so, the Mexican retailer enters the self-checkout segment, implementing technology, making it available to customers and improving their shopping experience.
Soriana San Pedro centre begins the trial run of the self-checkout signage with Shop and Roll. In order to optimise the checkout operation system, improve efficiency and reduce queues, Soriana relies on Shop and Roll for this visual communication project.
In this sense, to revolutionise the signage of this point of sale's area  with visual communication supports, Soriana has implemented different kinds of solutions available in our offer and catalogues:
Aerial markings to improve navigation and easy  identification of the self-checkout area from any point in the shop.
anti-covid protection signage: such as floor vinyls to mark the position and safety distance and gel dispensers to prevent covid or other infections.
On-furniture signage to indicate the operating steps of self-checkouts
Benefits of visual communication at the point of sale:
Shop and Roll has thus approached this project from Soriana's brand identity, adapting its philosophy to the different supports and designated areas. Thus, this signage:
Guides customers in the final stage of the shopping journey.
Allows user-friendly navigation in the self-checkout area
Enhances users' shopping experience
Improves shop productivity
In conclusion, Shop and Roll's participation in this project and the obtained results guarantee that customers, retailers and suppliers will make this project a success to come.
For further information on how to improve your point of sale in Mexico contact us on: marketing.equip@araven.com
Do you follow Shop and Roll on LinkedIn?  Follow us so as not miss out on latest news, trends and curiosities of the retail sector.